ITAD Services
»
Providing ITAD services since 2002.
Asset remarketing.
Materials recovery.
Secure data sanitization.
Refurbishing IT assets.
IT Asset Disposition
Asset Refurbishment and Remarketing
ROI on Decommissioned IT Assets
Equipment is Run Through First Choice's
Certified Procedures and Processes for
Data Sanitization and Diagnostics.
Your data security is our number one priority.
Secure Chain of Custody
Inventory Asset Tracking
Manage Retiring IT Assets with documentation & description of equipment.
Secure Data Sanitization
All wipe software and hardware is ADISA certified.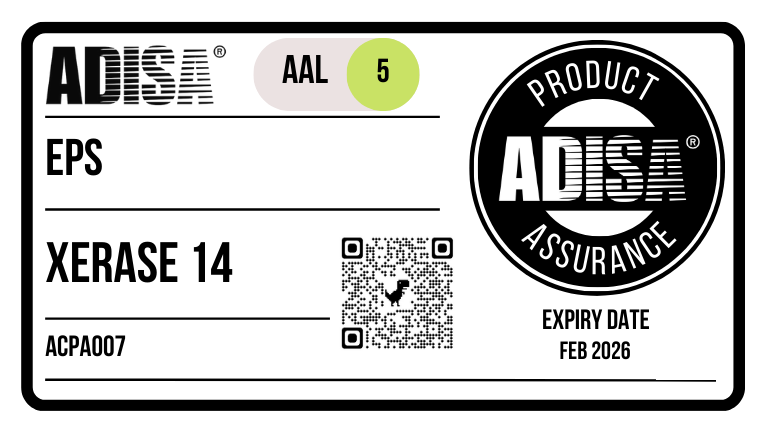 Options for wipe protocol
First Choice's in house data destruction meets government and industry standards requiring complete erasure of sensitive data prior to destruction and disposal.
Including:
U.S. Navy Staff Office Publication NAVSO P-5239-26
U.S. Air Force System Security Instruction 5020
U.S. DoD 5220.22-M
U.S. NIST SP-800-88
British HMG lnfosec Standard 5, Enhanced Standard V New Zealand NZSIT 402
Russian GOST R 50739-95
Australian ISM 6.2.92
Germany VSITR
Canada RCMP TSSIT OPS-II
Secure Erase / SSD Sanitize
On Site Mobile
Data Destruction
Services
»
SERVICES INCLUDE
On Site In Office Data Destruction
Quiet efficient erasure, destruction, and documentation of all sensitive material. Witness your data being destroyed in the comfort of your own facility.
Bulk Electronic Onsite Shredding Services
First Choice shred truck equipped with hard drive shredder.
Materials Destroyed
Hard Drives / SSD's / Tape Media / Flash Media / Mobile Storage Devices
Why is This Important?
Two of the most important data-security policy requirements emerging from IT departments, healthcare facilities, government facilities, and data centers are:

1. - Data erasure and destruction processes that can be performed inside your business' secure facility to maintain chain-of-custody and prevent data breaches due to physical loss and/or theft of the media.

2. - Data elimination and destruction that must be accurately tracked, documented, and preserved to withstand security audits.
Employee Background Checks
All of First Choice's Mobile Destruction Team have passed criminal background checks and drug screening, adhering to the industries strictest standards.
Secure & Compliant
First Choice's on site data destruction meets government and industry standards requiring complete erasure of sensitive data prior to destruction and disposal, including:
NIST SP 800-88r1
IRS 1075
CCPA (California Consumer Privacy Act)
DoD (Emergency Destruction)
GDPR (General Data Protection Regulation)
GLBA (Gramm-Leach-Bliley Act)
HIPAA (Health Information Portability and Accountability Act)
PCI DSS 3.2 (Payment Card Industry Data Security Standard)
PIPEDA (Personal Information Protection and Electronic Documents Act)
TAA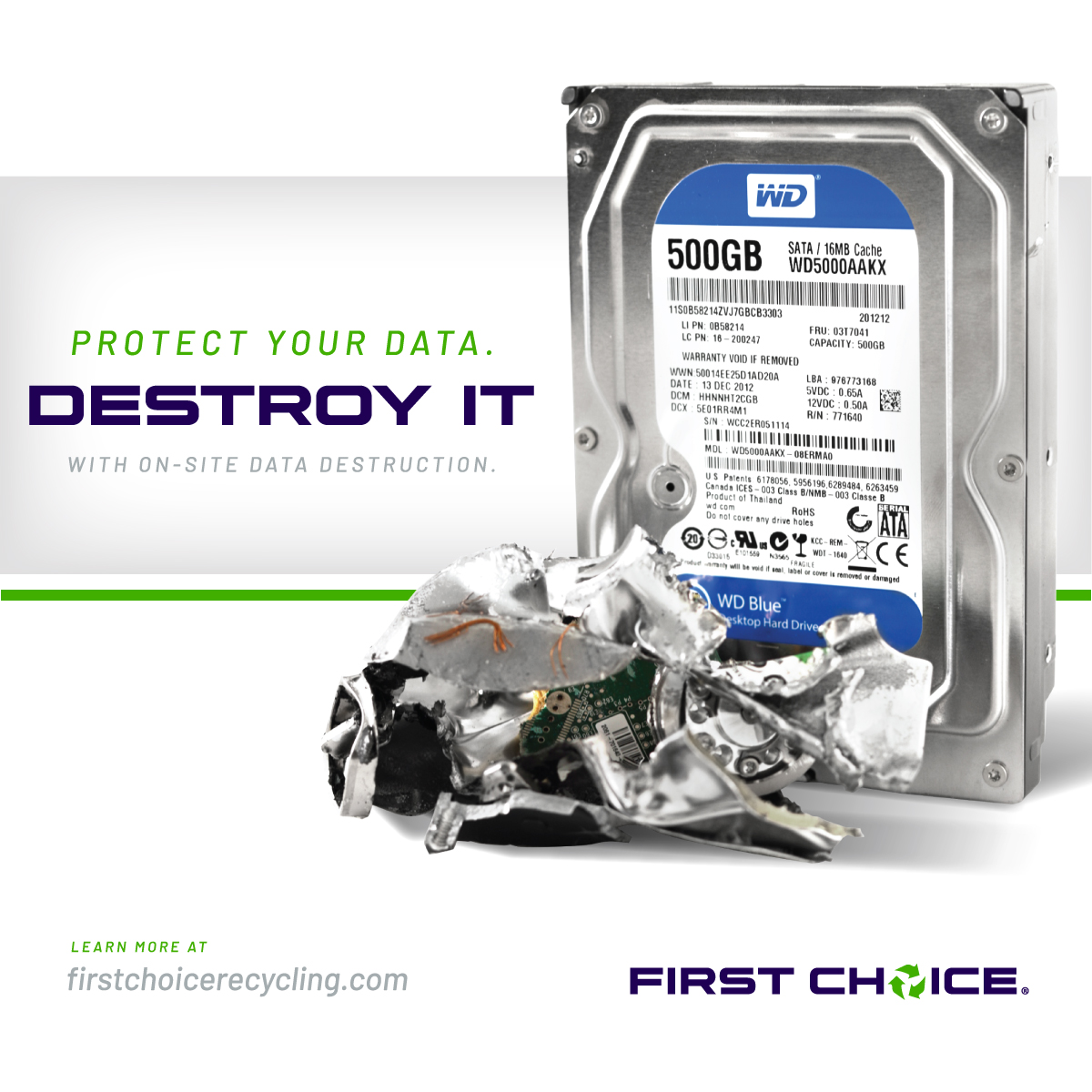 Step 1
Get a quote for the services you need.

Step 2
Choose when you want your service.

Step 3
We arrive on the scheduled date to securely destroy your media.

Step 4
All services come with the availability of a Certificate of Destruction in JPEG form or Excel based for your records. Material is securely recycled with First Choice.
Document of Destruction
First Choice's system tracks, logs, and documents media as it is sanitized. Customizable Certificates of Erasure with drive details and Destruction pictures, complete with JPG images of the media before and/or after destruction, providing proof the media was properly sanitized and destroyed. Customers are provided flash drives with documentation or email versions.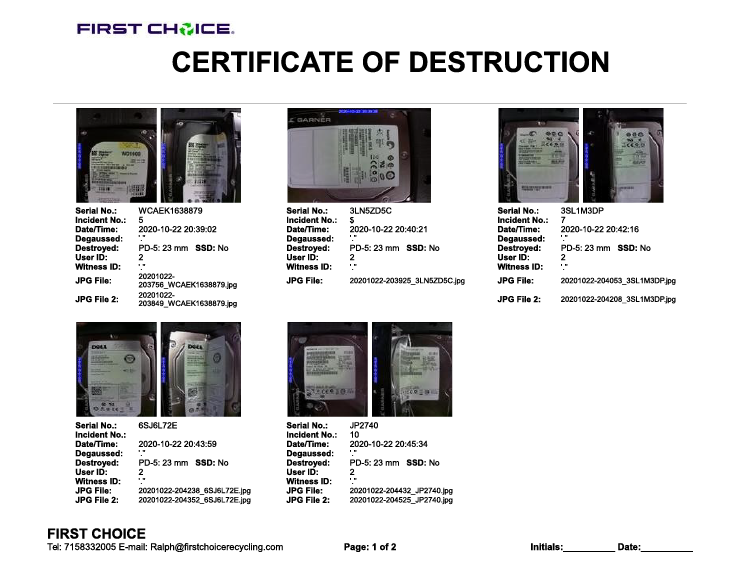 Degaussing
First Choice's degausser magnetically destroys all data on hard drives and tape in 7 seconds, verifying the erasure fields strength. Generating 10,000+ Gauss (1 Tesla) magnetic field for complete erasure of hard drives and tape media. Degaussing is recognized by the NSA and the DOD as the appropriate method of secure data destruction.
First Choice's degaussing process is ideal for in office settings with a whisper quiet operating system.
Destruction
First Choice's in office destruction process quietly destroys hard drives by bending, breaking, and mangling the hard drive and its internal components including the data platters. Using a rugged, stainless-steel crushing wedge, the Drive Destroyer bends the data platters, preventing the hard drive from "spinning up" or the hard disk platters from being removed and placed on a spin stand used in laboratory data recovery techniques. The Drive Destroyer also cracks the hard-drive housing, breaks the PC board, and smashes the read-write heads. For using after degaussing, the Drive Destroyer ensures total hard drive destruction.
NSA Listed
Listed on the NSA/CSS Evaluated Products List (EPL) for Hard Drive Bending Devices, First Choice's Data Destroyer was laboratory tested to ensure disk destruction to the level required for U.S. Government classified Top-secret data.
All Drives and destroyed Media are transported to First Choice's facility in secure containers for final shredding and recycling.
Material is securely recycled at First Choice's facility.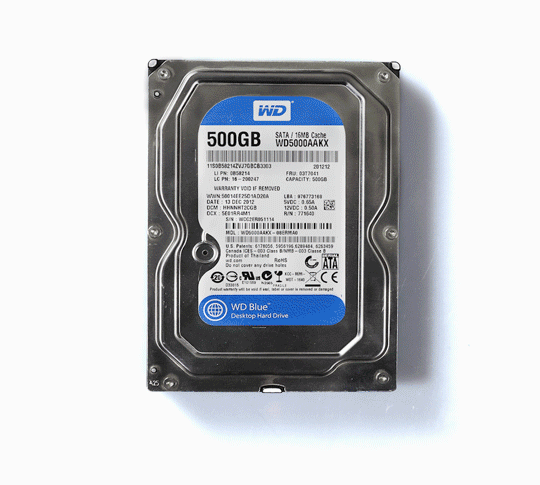 On Site Bulk Shredding Services
First Choice's Mobile Shred truck for bulk shredding Services
All of First Choice's Mobile Destruction Team have passed criminal background checks and drug screening, adhering to the industries strictest standards.
Material is securely recycled at First Choice's facility
Phone - Tablet and Electronic Media Destruction
Secure erasure and Device Analyst for mobile devices.
All devices are run through our industry leading erasure and analyst process.
All personal data is destroyed.
All devices are environmentally recycled.
Full Service
Electronic
Recycling Facility
»
Contact for pick up pricing
National - Regional - Local

Shipping and Receiving facility -
525 Park Ridge Ct.
Eau Claire WI.


Material Recovery
Statement of Recycling
Verification that all equipment has been recycled to exceed industry standards set by certifying bodies and government agencies.

End Of life Material Tracking
End of life assurance as to destination for recycled materials that they have been processed in an environmentally responsible manner. Maintaining a zero landfill policy. Carbon footprint reduction is material recoverys objective. Every pound of material recovered is a pound of raw material that is not mined from the earth twice. Material recovery is paramount to preserving our environment.
Accepted Items
Digital Storage (Fees Apply)
Hard Drives, SSD's, Flash Memory, Sim Cards, Chipped Security Cards, External Drives
Video Game Equipment
Consoles
Games
Controllers
Home Entertainment
Cable Boxes
DVR Players
Surround Sound Consoles
DVD Players
VCR
Surge Protectors
Touch Screens
Headphones
Fluorescent Lamps (Fees Apply)
Appliances Accepted
Freon Appliances
Refrigerators - $20 Fee
Freezers - $20 Fee
Air Conditioners - $20 Fee
Dehumidifiers - $20 Fee
No Charge Appliances
Microwaves
Ovens
Dishwashers
Washing Machines
Dryers
Water Heaters
Furnaces
All services rendered by First Choice Computer Recycling LLC in the processing of material in house, are to be considered "Non-NAID Certified" unless specifically agreed upon. All on-site data destruction and data sanitization services are NAID Certified. First Choice's standard "Non-NAID Certified" services still maintain industry leading data security standards (Dept. of Defense & NIST).